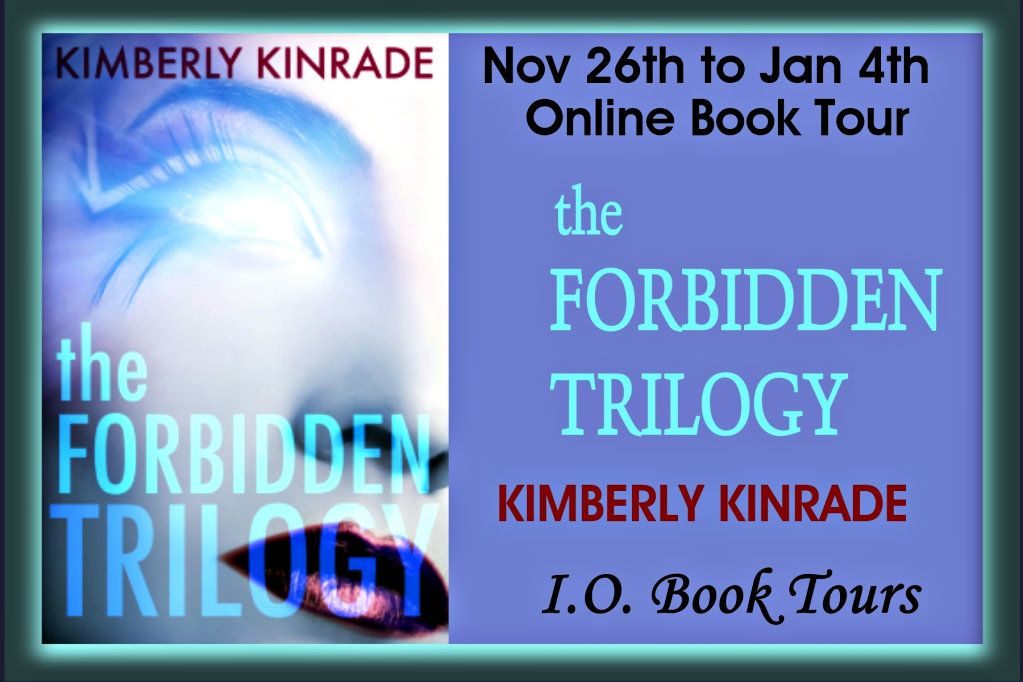 "A thrilling, dark and deeply romantic read." ~Refracted Light Young Adult Book Reviews
"The plot is very ALIAS and DARK ANGEL-like with X-MEN as its backdrop (awesome combo!)." ~Sour Skittles Book Blog
Paranormal teens with unimaginable powers. A secret organization with deadly intentions. When Sam, a girl who reads minds, meets Drake, a boy who controls minds, they discover their lives aren't what they thought.
Together, they must escape their fate and free their friends, before they lose everyone they love.
This special edition omnibus includes the entire Forbidden Trilogy--Forbidden Mind, Forbidden Fire and Forbidden Life, as well as extensive bonus content. Meet the author in an in-depth Q&A, get to know your favorite characters better, enjoy never-before-revealed interlude scenes and so much more.

Forbidden Mind
49% of Americans believe their government officials are honest. I don't know these officials, or their supporters, but I know their secrets, and 49% of Americans are wrong.

My employers pay me well to be right, to know things others can't. But I don't know why they brought that boy in, strapped to a stretcher, barely conscious. He asked me for help when I could give none.

I'm a wealthy spy, a talented artist, a martial arts black belt, and a prisoner. They tell me that on my eighteenth birthday, I will be released, free to go to the college of my dreams. It's my eighteenth birthday, and a man in black is at my door. I know he's not here to free me.

I know, because I can read minds.

My name is Sam, and this is my story.

So begins the tale of Sam and Drake--from the time they link minds, forging a bond that leads to an unconventional romance--to their fight for survival against the corrupt, twisted organization known as 'Rent-A-Kid.'
"...a thrilling, dark and deeply romantic read that had me sitting on the edge of my seat and eagerly awaiting the next installment." ~ Refracted Light Young Adult Book Reviews

"The plot is very ALIAS and DARK ANGEL-like with X-MEN as its backdrop (awesome combo!). Forbidden Mind BLEW my mind!" ~Sour Skittles Book Blog

Winner of 2011 Forward National Literature Award

Forbidden Fire
"She escaped, but she'll never be free."

"Time held no meaning as my mind darted in and out of memories. Past and present collided to create a full-sensory collage out of my life: playing hide-n-seek with my best friends Luke--who always cheated by walking through walls when he was about to be caught--and Lucy; Mr. Caldrin critiquing my sketches and offering ideas to make them more realistic; targets changing faces, blending into the same person, their thoughts rippling through my mind like waves. Through it all, a demon stalked me from the shadows of my memories, never quite showing its face, but crouching, waiting.

And then I dreamed...."

Sam and Drake may have escaped, but they aren't free—not with a powerful Seeker after them. As Sam struggles with the ethics of her new powers and embraces a blossoming physical relationship with Drake, Lucy and Luke face challenges of their own.

With forces coalescing inside and outside the Rent-A-Kid dorms, it's only a matter of time before the fire they started forces each of them to make choices they can't undo. But will it be enough to save them?
Forbidden Life
The road to redemption begins in darkness.

A sinister force waits for them in darkness, ready to devour their powers and take their lives.

Sam's baby is the key to a lock that must never been opened. To keep her child safe, Sam will do anything.
Drake might have found a way to get his powers back and save his family, but is it too late?

Luke and Lucy uncover secrets in an organization they thought they could trust, and the lives of all Rent-A-Kid children are at stake.

In this last Forbidden Trilogy installment, the secrets to Rent-A-Kid will finally be revealed.
It was hard for me to get into the story in these books. It is not a type of book I normally read, but even so I can usually find something I enjoy in nearly any type of book I read. I did like Sam, and by book two was beginning to like her more. I never really connected with any of the other characters, and felt that I could have liked Sam and possibly even Drake more if the story had a bit more depth and spent more time explaining things as the story progressed.
I can see this becoming a popular series with a bit more editing and a few places rewritten with more depth and information to make the story flow better.
Overall the author has a great idea for a story series, but I just couldn't really get into it. I felt like there were missing parts and several things not explained as well as I thought they could and should be. These stories have great potential, just weren't as good a read for me as they seem to be for others. My favorite part of this whole book was the in-depth Q&A. I felt like I learned more about the author and characters through that, and now wish I'd read it before reading the books.
As always, this is my personal opinion based on my personal likes and dislikes. If I have to give this a 1 to 5 rating - I'd give them each a 3. Please don't judge a book by "its cover" or my one opinion!
BIO:
Kimberly Kinrade was born with ink in her veins and magic in her heart. She writes fantasy and paranormal stories for children, YA and adults and still believes in magic worlds. Check out her YA paranormal novels Forbidden Mind and Forbidden Fire and her illustrated children's fantasy chapter books Lexie World, and Bella World, all on Amazon.
She lives with her three little girls who think they're ninja princesses with super powers, her two dogs who think they're humans and her husband, also known as the sexy Russian Prince, who is the love of her life and writing partner.
For a list of her books, check out: http://Amazon.com/author/kimberlykinrade
For a fun fan experience, join the team at I.P.I. at http://IPIAcademy.com
For kids and parents of young kids, join the Lost Kids at http://ThreeLostKids.com
Good Reads
http://www.goodreads.com/book/show/12659042-forbidden-mind
ONLINE LINKS:
Twitter: @KimberlyKinrade
IPI Twitter: @IPIAcademy
Facebook: /KimberlyKinrade
IPI Facebook: /IPIAcademy
BUY NOW LINK:
I received one or more books or products in the post above for review purposes only. I was in no way required to write a positive review. All my reviews are my honest and personal opinion
. If you have any questions or comments, please see my FTC disclosure or Review Policy.